What Is Stop Stigma Week?
Our Goal is to promote recovery from mental illness by reducing its stigma through community education

Our Plan:
Events to educate public about plight of people afflicted with mental illness.

Focus groups will be conducted beginning in January through April with church groups etc.

The Mayor will proclaim Hoboken as nation's first Stigma Free Zone

will unveil Sign that designates as. Sign(s) will be posted at 3 entrances into Hoboken.

The mayor will award of winners of Essay Contest, 1st, 2nd and 3rd place.

Theatre Performance-Michael Mack-Hearing Voices Speaking in Tongues

Hoboken Police Force will receive NAMI NJ's training to educate them to facilitate an emergency with a person afflicted with mental illness

Hoboken Teachers will receive a training on how to present "Every Mind Matters."

8th, 9th and 10th Graders will be taught NAMI NJ educational program "Every Mind Matters."

Essay Contest 8th 9th & 10th Graders

Day Programs for the mentally ill in Hudson County will build sculptures from empty medicine bottles that will be displayed.
Honorary Guest
Michael Mack is no longer planned since the high school teacher in charge felt that the kids needed more education about mental illness before seeing his show. We really wanted to have Michael's performance for Stop Stigma Week but not this year. We are hoping for next year.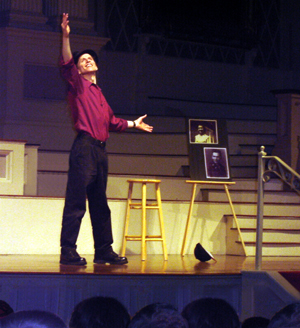 (poet, playwright, performer)
creator of Hearing Voices (Speaking in Tongues) a disarming one-man play about his mother's mental illness
Brenda's Stop Stigma Blog
Where Do People Go When Their Own Government Displaces Them and They Have Nowhere Else Safe To Go?
Camp Take Notice (CTN) is a democratically self-governing tent community providing a refuge of last resort and basic humanitarian aid for Washtenaw County homeless people. The Michigan Itinerant Shelter System: Interdependent Out of Necessity (MISSION) is a 501 (c)(3) non-profit organization partnering with CTN, composed of CTN campers and other community volunteers. In its three year history, CTN has been forcibly evicted from public land four times and now faces the potential for another eviction.

Because the outcome for CTN is politically driven, please make your voice heard. Support CTN and its search for a permanent home by signing this petition and by contacting: (1) State Representative Mark Ouimet at MarkOuimet@house.mi.gov and toll free: (855) 627-5052; (2) MDOT Transportation Director Kirk Steudle at SteudleK@michigan.gov and (517) 373-2114; (3) E. Spaulding Clark from Scio Township Board of Directors at ESClark@twp.scio.mi.us; (4) Rob Turner from Washtenaw County Board of Commissioners (CTN's district) at turnerr@ewashtenaw.org
This is such a contrast with the Homeless Bill of Rights just passed in Rhode Island ‡¡‡